The CEO of Asiwaju Couture, Uluwafunso Asiwaju Couture reveals how his best friend, Mercy Aigbe stole her husband Kazim Adeoti from her.
Asiwaju Couture is the estranged wife of Nigerian Movie marketer, Kazim Adeoti.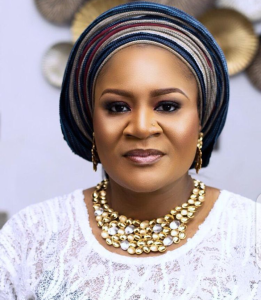 The mother of four unleashed this after ace Nollywood actor, Mercy Aigbe who left his former "abusive" marriage was reportedly married to Kazim as a second wife and his.
Asiwaju Couture who kept silent as this information flaunts social media has reacted fury as she reveals the secret behind her Domestic violence.
She denied the rumor spread after Media Room Hub interviewed her husband saying that she agreed to settle with Mr. Adeoti as the second wife.
Asiwaju said that she did "NOT and will NEVER SETTLE to have a second wife" in her marriage with her soon-to-be ex-husband.
She also warned her husband to stop degrading her and her children with his "Childish and demeaning attitude".
See her post below…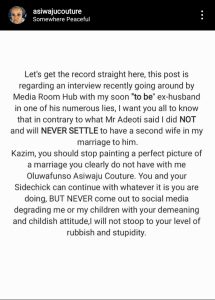 She also unleashed the secrets on how her friend, Mercy Aigbe betrayed her by snatching her husband away from her.
Asiwaju also revealed that Mercy Aigbe has been sleeping with her 'soon to be ex-husband since 2010.